Overview
Heel spurs occur in at least half the people who have plantar fasciitis, a painful condition involving the thick tissue that runs between your heel bone and your toes. In the past, doctors often performed surgery to remove heel spurs, believing them to be the cause of the pain associated with plantar fasciitis. In treating plantar fasciitis now, doctors rely more on ice, arch supports, physical therapy and pain medications, and surgery is rarely performed.
Causes
A major cause of heel spur pain comes from the development of new fibrous tissue around the bony spur, which acts as a cushion over the area of stress. As this tissue grows, a callus forms and takes up even more space than the heel spur, leading to less space for the thick surrounding network of tendons, nerves, ligaments and supporting tissue. These important structures in the foot have limited space because of calcium or tissue buildup, which leads to swelling and redness of the foot, and a deep throbbing pain worsened with exercise.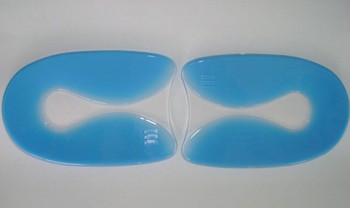 Symptoms
Heel spurs result in a jabbing or aching sensation on or under the heel bone. The pain is often worst when you first arise in the morning and get to your feet. You may also experience pain when standing up after prolonged periods of sitting, such as work sessions at a desk or car rides. The discomfort may lessen after you spend several minutes walking, only to return later. Heel spurs can cause intermittent or chronic pain.
Diagnosis
Most patients who are suffering with heel spurs can see them with an X-ray scan. They are normally hooked and extend into the heel. Some people who have heel spur may not even have noticeable symptoms, although could still be able to see a spur in an X-ray scan.
Non Surgical Treatment
The key for the proper treatment of heel spurs is determining what is causing the excessive stretching of the plantar fascia. When the cause is over-pronation (flat feet), an orthotic with rearfoot posting and longitudinal arch support is an effective device to reduce the over-pronation, and allow the condition to heal. Other common treatments include stretching exercises, losing weight, wearing shoes that have a cushioned heel that absorbs shock, and elevating the heel with the use of a heel cradle, heel cup, or orthotic. Heel cradles and heel cups provide extra comfort and cushion to the heel, and reduce the amount of shock and shear forces experienced from everyday activities.
Surgical Treatment
Surgery to correct for heel spur syndrome is a common procedure which releases plantar fascia partially from its attachment to the calcaneous (heel bone). This part of the surgery is called a plantar fasciotomy due to the fact the fascia is cut. This is most often done through an open procedure as any heel spur or bursa can be removed at the same time. If the spur is not removed during the surgery, it will probably be just as successful, as the large spur is not the true problem. Some physicians use an endoscopic approach (EPF) where a small camera aids the physician during surgery with typically smaller incisions on each side of your foot.
Prevention
Heel spurs and plantar fasciitis can only be prevented by treating any underlying associated inflammatory disease.