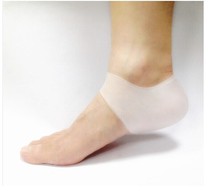 Overview
The plantar fascia is a ligament that connects the heel to the toes on the bottom of the foot. It lies just below the skin layers as it passes over the arch of the foot. A common ailment called plantar fasciitis is the result of this ligament becomes inflamed. This can Foot anatomyhappen from injury, physical stress, or sometimes for no obvious reason. The most common point for this inflammation is where this ligament joints the heel bone. Typical symptoms are the pain on the bottom of the foot near the heel usually most intense in the mornings when arising or after a long period with little movement. The pain typically diminishes with movement. Many suffering from plantar fasciitis have heel spurs. Even though they are in the same area they are unrelated and the heel spurs do not cause the plantar fasciitis. Most times heel spurs will not cause pain and in many go undetected unless they have an x-ray for some other reason.
Causes
It is common to see patients with Plantar Fasciitis who have been wearing shoes that are too soft and flexible. The lack of support can be stressful on the heel for those patients who's feet aren't particularly stable. If these ill fitting shoes are worn for long enough, the stress will lead to Heel Pain as the inflammation of the fascia persists. Footwear assessment and advice will be essential in order to get on top of the Plantar Fasciitis. It may surprise some people to learn that high heeled shoes are not the cause of Plantar Fasciitis, although they can cause tight calf muscles. High arches can lead to Plantar Fasciitis. This is due to the lack of contact under the sole of the foot. Even sports shoes which appear to have good arch support inside are often too soft and not high enough to make contact with the arch of the foot. Hence, the plantar fascia is unsupported. This can lead to Heel pain and Plantar Fasciitis. Flat feet can lead to Plantar Fasciitis. Flat feet is caused by ligament laxity and leads to foot instability. Other structures such as muscles, tendons and fascia work harder to compensate for this instability. Heel pain or Plantar Fasciitis arises when the instability is too great for these other structures to cope with. The strain on the fascia is too severe and the inflammation sets in. Over stretching can lead to Plantar Fasciitis. Certain calf stretches put the foot into a position that creates a pulling sensation through the sole of the foot. This can cause Plantar Fasciitis which can cause pain in the arch of the foot as well as Heel Pain.
Symptoms
If you have Plantar Fasciitis, you will most likely feel a sharp pain under the ball of you heel and it will often give pain when standing after a period of rest. For example when you get out of bed in the mornings or after being sat down. Some patients describe this feeling as a stone bruise sensation, or a pebble in the shoe and at times the pain can be excruciating. Patients with Plantar Fasciitis can experience pain free periods whereby the think they are on the mend, only for the heel pain to come back aggressively when they appear to have done nothing wrong. If your plantar fasciitis came on very suddenly and the pain is relentless, then you may have Plantar Fascial Tears. We will be able to differentiate between these 2 conditions, sometimes with ultra sound imaging. The treatment for each of these conditions will need to be very different.
Diagnosis
Your doctor will ask you about the kind of pain you're having, when it occurs and how long you've had it. If you have pain in your heel when you stand up for the first time in the morning, you may have plantar fasciitis. Most people with plantar fasciitis say the pain is like a knife or a pin sticking into the bottom of the foot. After you've been standing for a while, the pain becomes more like a dull ache. If you sit down for any length of time, the sharp pain will come back when you stand up again.
Non Surgical Treatment
First check your shoes for too much midfoot flexibility and check your training for changes. A detailed evaluation of changes in your training is necessary. You should start with what is called "relative rest" which means a decrease in workout intensity, duration of session and decrease in the number of sessions per week. The most important part of self treatment for this condition is being sure that your shoes offer sufficient stability and are optimal in controlling the forces that contribute to plantar fasciitis and heel spurs. Check your running shoes to make sure that they are not excessively worn. They should bend only at the ball of the foot, where your toes attach to the foot. This is vital! Avoid any shoe that bends in the center of the arch or behind the ball of the foot. It offers insufficient support and will stress your plantar fascia. The human foot was not designed to bend here and neither should a shoe be designed to do this. You should also be doing gentle calf stretching exercises. This will reduce stress on the plantar fascia in two ways. The first manner in which a relaxation of the tension in the calf muscles can help heel pain is that it will reduce the direct pull backwards on the heel bone (calcaneus). The second reason is a little bit more complicated, but essentially it is that a tight achilles tendon and calf muscles causes the rearfoot to move in a manner that causes over pronation as your leg and body move forward over your foot. So go ahead and gently stretch the calf muscle by doing the runner's wall leaning stretch. To strengthen the muscles in your arch toe curls or "doming" can be done. Toe curls may be done by placing a towel on a kitchen floor and then curling your toes to pull the towel towards you. This exercise may also be done without the towel against the resistance of the floor.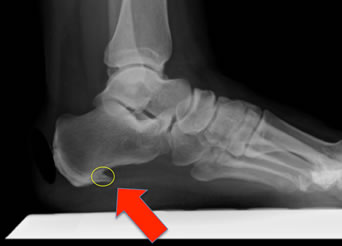 Surgical Treatment
If treatment hasn't worked and you still have painful symptoms after a year, your GP may refer you to either an orthopaedic surgeon, a surgeon who specialises in surgery that involves bones, muscles and joints, a podiatric surgeon, a podiatrist who specialises in foot surgery. Surgery is sometimes recommended for professional athletes and other sportspeople whose heel pain is adversely affecting their career. Plantar release surgery. Plantar release surgery is the most widely used type of surgery for heel pain. The surgeon will cut the fascia to release it from your heel bone and reduce the tension in your plantar fascia. This should reduce any inflammation and relieve your painful symptoms. Surgery can be performed either as, open surgery, where the section of the plantar fascia is released by making a cut into your heel, endoscopic or minimal incision surgery - where a smaller incision is made and special instruments are inserted through the incision to gain access to the plantar fascia. Endoscopic or minimal incision surgery has a quicker recovery time, so you will be able to walk normally much sooner (almost immediately), compared with two to three weeks for open surgery. A disadvantage of endoscopic surgery is that it requires both a specially trained surgical team and specialised equipment, so you may have to wait longer for treatment than if you were to choose open surgery. Endoscopic surgery also carries a higher risk of damaging nearby nerves, which could result in symptoms such as numbness, tingling or some loss of movement in your foot. As with all surgery, plantar release carries the risk of causing complications such as infection, nerve damage and a worsening of your symptoms after surgery (although this is rare). You should discuss the advantages and disadvantages of both techniques with your surgical team. Extracorporeal shockwave therapy (EST) is a fairly new type of non-invasive treatment. Non-invasive means it does not involve making cuts into your body. EST involves using a device to deliver high-energy soundwaves into your heel. The soundwaves can sometimes cause pain, so a local anaesthetic may be used to numb your heel. It is claimed that EST works in two ways. It is thought to, have a "numbing" effect on the nerves that transmit pain signals to your brain, help stimulate and speed up the healing process. However, these claims have not yet been definitively proven. The National Institute for Health and Care Excellence (NICE) has issued guidance about the use of EST for treating plantar fasciitis. NICE states there are no concerns over the safety of EST, but there are uncertainties about how effective the procedure is for treating heel pain. Some studies have reported that EST is more effective than surgery and other non-surgical treatments, while other studies found the procedure to be no better than a placebo (sham treatment).