Overview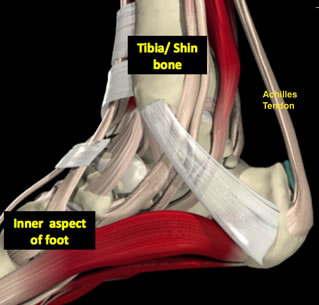 Achilles tendinitis (tendonitis) or Achilles tendon inflammation occurs when the Achilles tendon becomes inflamed, as a result, of the Achilles tendon being put under too much strain. The Achilles tendon joins the calf muscles to the heel bone, and is found at the back of a person's lower leg. It is the largest tendon in the body and can endure great force, but is still susceptible to injury. Achilles tendinitis is usually the result of strenuous, high impact exercise, such as running. If ignored, Achilles tendinitis can lead to the tendon tearing or rupturing, and therefore it is important to seek the necessary treatment. Sometimes, treatment can be as simple as getting rest or changing an exercise routine. However, in more severe cases, surgery may be required.
Causes
There are a number of ways a person can develop Achilles tendinitis. Some causes are easier to avoid than others, but being aware of them can aid earlier diagnosis and help prevent serious injury. Causes of Achilles tendinitis include, using incorrect or worn out shoes when running or exercising. Not warming up properly before exercise. Increasing intensity of exercise too quickly (e.g. running speed or distance covered). Prematurely introducing hill running or stair climbing to exercise routine. Running on hard or uneven surfaces. Calf muscle is injured or has little flexibility (this puts a lot of strain on the Achilles tendon). Sudden intense physical activity such as sprinting for the finish line. Achilles tendinitis can also be caused by differences in foot, leg or ankle anatomy. For example, some people can have flatness in their foot where there would normally be an arch; this puts more strain on the tendon. The FDA has asked that a boxed warning be added to the prescribing information for fluoroquinolone antibiotics. Patients taking these drugs may experience an increased risk of tendinitis and tendon rupture. Fluoroquinolones include Cipro (ciprofloxacin), Factive (gemifloxacin), Levaquin (levofloxacin), Avelox (moxifloxacin), Noroxin (norfloxacin), Floxin (ofloxacin) and Proquin (ciprofloxacin hydrochloride). It is important to remember that the risk for injury is not necessarily gone when the drug is stopped. Cases have been reported in which tendon problems occurred up to several months after the drug was discontinued.
Symptoms
Achilles tendonitis may be felt as a burning pain at the beginning of activity, which gets less during activity and then worsens following activity. The tendon may feel stiff first thing in the morning or at the beginning of exercise. Achilles tendonitis usually causes pain, stiffness, and loss of strength in the affected area. The pain may get worse when you use your Achilles tendon. You may have more pain and stiffness during the night or when you get up in the morning. The area may be tender, red, warm, or swollen if there is inflammation. You may notice a crunchy sound or feeling when you use the tendon.
Diagnosis
On examination, an inflamed or partially torn Achilles tendon is tender when squeezed between the fingers. Complete tears are differentiated by sudden, severe pain and inability to walk on the extremity. A palpable defect along the course of the tendon. A positive Thompson test (while the patient lies prone on the examination table, the examiner squeezes the calf muscle; this maneuver by the examiner does not cause the normally expected plantar flexion of the foot).
Nonsurgical Treatment
Treatment depends on severity of pain. The most effective long-term treatment for Achilles tendinitis/tendinopathy is physical therapy, particularly therapy that focuses on eccentric muscle/tendon strengthening. Calf and Achilles stretching are also an important part of the treatment. In severe cases, treatment may begin with a period of rest and immobilization in order to calm down the tendon before physical therapy is initiated. Anti-inflammatories may be prescribed. Avoiding activities that aggravate the Achilles tendon will help the healing process. Improvement and resolution of symptoms can take months. Exercise might be the cause of Achilles tendonitis, but it can also help prevent it and aid in recovery. Healing will occur more quickly if there is no pressure on the injured tendon, and if the foot is at least partially immobilized.
Surgical Treatment
Not every Achilles tendon injury or condition requires surgery. It is generally understood by doctors and surgeons, that surgery will introduce more scar tissue into the Achilles tendon. This added scar tissue will be problematic, requiring physical therapy and conservative treatment options post-surgery. If not dealt with properly, your ankle and Achilles tendon could end up in worse condition than before the surgery! This is why surgery is only performed as a last resort.
Prevention
Although Achilles tendinitis cannot be completely prevented, the risk of developing it can be lowered. Being aware of the possible causes does help, but the risk can be greatly reduced by taking the following precautions. Getting a variety of exercise - alternating between high-impact exercises (e.g. running) and low-impact exercise (e.g. swimming) can help, as it means there are days when the Achilles tendon is under less tension. Limit certain exercises - doing too much hill running, for example, can put excessive strain on the Achilles tendon. Wearing the correct shoes and replacing them when worn - making sure they support the arch and protect the heel will create less tension in the tendon. Using arch supports inside the shoe, if the shoe is in good condition but doesn't provide the required arch support this is a cheaper (and possibly more effective) alternative to replacing the shoe completely. Stretching, doing this before and after exercising helps to keep the Achilles tendon flexible, which means less chance of tendinitis developing. There is no harm in stretching every day (even on days of rest), as this will only further improve flexibility. Gradually increasing the intensity of a workout - Achilles tendinitis can occur when the tendon is suddenly put under too much strain, warming up and increasing the level of activity gradually gives your muscles time to loosen up and puts less pressure on the tendon.